Upcoming Sessions with Nithya Shanti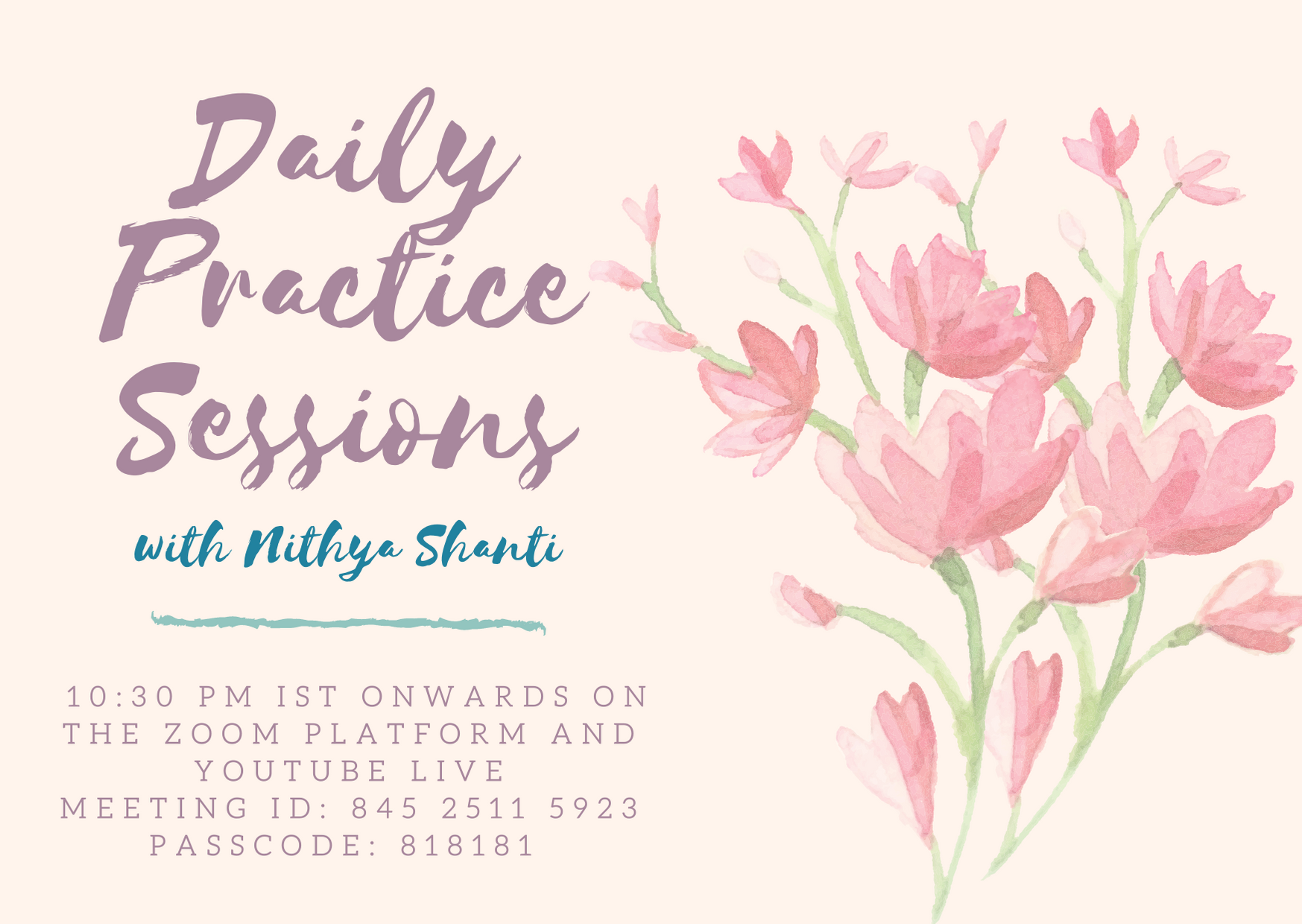 ============================================================================================
I've been feeling call to start a daily practice every night to support all those of you who are going through these challenging times of doom and gloom.
Please join the daily practice sessions if you feel called to.
Time : 10:30 pm IST onwards on the Zoom platform and YouTube Live.
Zoom meeting details:
https://us02web.zoom.us/j/84525115923?pwd=VjhmeVZSUjNERDJBL3Z4YWdyU2RHdz09
Meeting ID: 845 2511 5923
Passcode: 818181
Link to join is also shared on Nithya's
Telegram group Hadayoli: hadayoli
Instagram Bio: linktr.ee/nithyashanti
All are welcome!
MONTHLY FULL MOON/ NEW MOON PRACTICE SESSIONS
Open practice sessions twice a month with Nithya.
Upcoming Dates for May:
Tuesday 25th May FULL MOON Meditation
10:00 pm to 12:00 am IST
These sessions are open for all to attend. There is no price to register.
Zoom Webinar Link for Registration:
For more information contact: [email protected]
For any concerns during registration, please contact [email protected]
=================================================================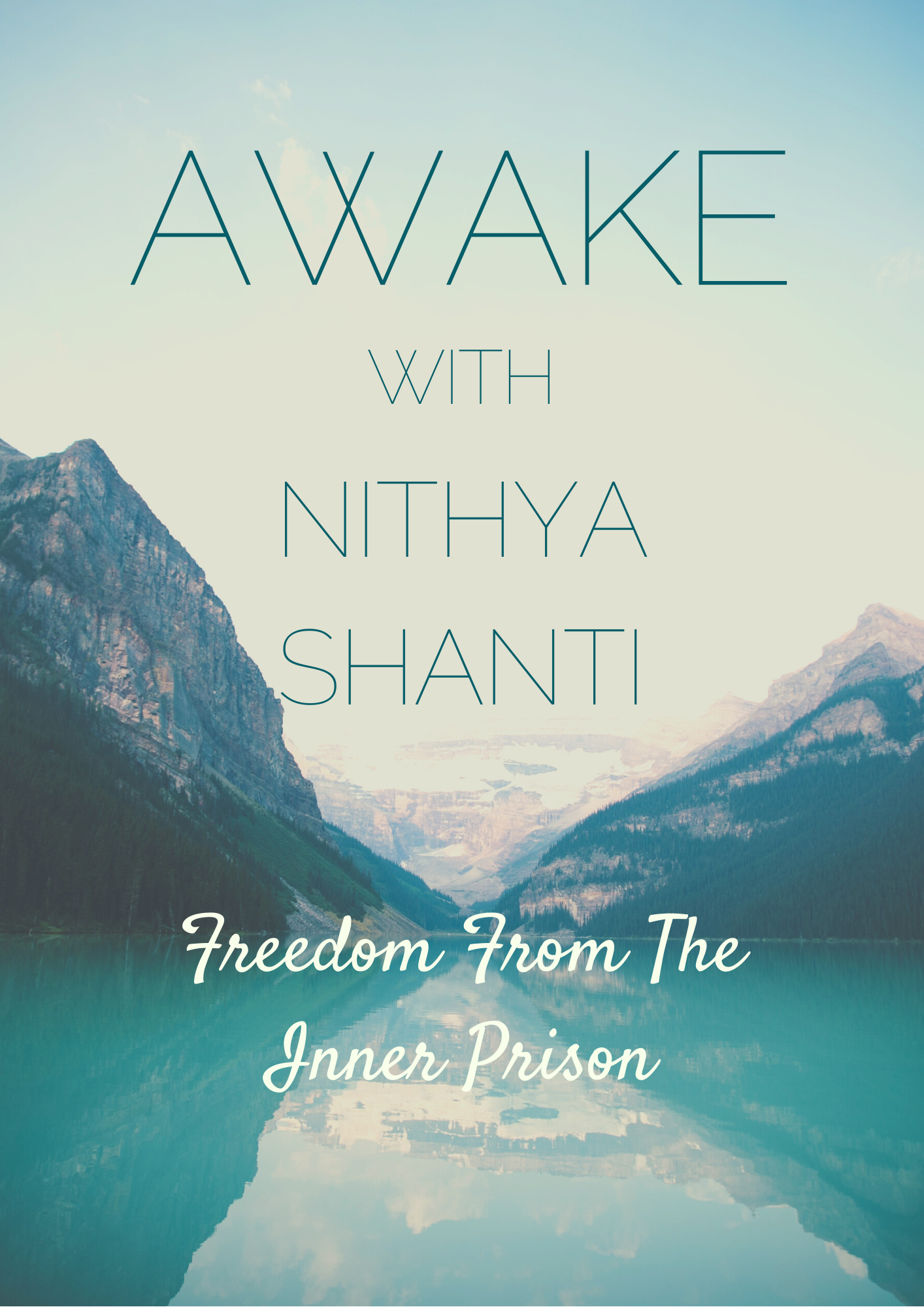 AWAKE- Freedom From The Inner Prison
Join Nithya Shanti on a 6 day journey where we explore what is it like to be awake and free from the inner prison that we have created for ourselves with simple and uncomplicated practices.
Learn from the rich harvest he has reaped and benefited from, from various teachers and texts and been sharing with countless people across the world.
Dates: Tuesday 8th June to Sunday 13th June 2021
Time: 6:30 am to 8 am IST
Registration : 2950/- INR (Inclusive of 18% GST)
Register here: https://rzp.io/l/AWAKE
Paytm/ Gpay/ Upi payments to: +91 9686820707 (Please send a screenshot of your payment to Lata to receive details for Zoom link registration)
For further details , please contact:
+91 7895618124
OR
+91 9764203030
==================================================================
TAPAS - Inner Ripening (A Nine Month Course)
Intensive practice sessions with Nithya for four hours each week over a period of nine months. (Course commenced in January)
Seventy two sessions of two hours each, two times a week.
Deeply experience the most life enhancing principles and practices.
April Schedule:
DATES: Mondays- 5th; 12th; 19th; and 26th April
TIME: 5 am to 7 am IST
and
DATES: Thursdays- 1st; 8th; 15th; 22nd; and 29th April
TIME : 8 pm to 10 pm IST
For more information contact: [email protected]
To register contact [email protected]
~~~~~~~~~~~~~~~~~~~~~~~~~~~~~~~~~~~~~~~~~~~~~~~~~~~~~
Join anytime with the option of a Monthly Subscriptions of 14,700/- each month for the remaining duration of the course.
https://www.rigpacourse.com/p/tapas-inner-ripening-a-nine-month-course/
================================================================
All Access Membership for 3 Years 3 Months 3 Days
Register at one time to access ALL my past recordings & writings and all upcoming programs and offerings by me for 3 Years 3 Months and 3 Days from the time you register.
(In case of retreats where you physically attend the course, you will only have to pay for your travel and boarding expenses)
One Time Registration Amount: INR 3,33,000/- for 3 years 3 months and 3 days
(You save about INR 60,000/- with this option)
Registration amount for yearly access: INR 1,31,000/ annum
(All accesses to content will cease to continue if not renewed a month before expiration of due date)
For more information, please contact [email protected]
To register please contact [email protected]
Mobile: +91-9764203030
These funds also support the creation of a physical community practice place that I have envisioned.
~~~~~~~~~~~~~~~~~~~~~~~~~~~~~~~~~~~~~~
Bank details for account transfer :
Account Name: Funwise Consulting Private Limited
Current Account No. : 058105002512
Bank : ICICI Bank
Branch: Magarpatta , Pune
Address: FARENA CORPORATE PARK, Magarpatta, Pune - Maharashtra‐ 411013
IFSC Code: ICIC0000581
KINDLY SEND A SCREENSHOT OF YOUR TRANSACTION TO
=================================================================
The Mangal Mitra Project - Transcribe Nithya Shanti's Talks
Transcribe any of my talks and become eligible for a 25% discount on upcoming courses for each talk that you transcribe.
Join the inspiring "Mangal Mitra Community". Learn and grow together.
For details please contact
ph: +91 7895618124
OR
Mobile: +91 9764203030
=================================================================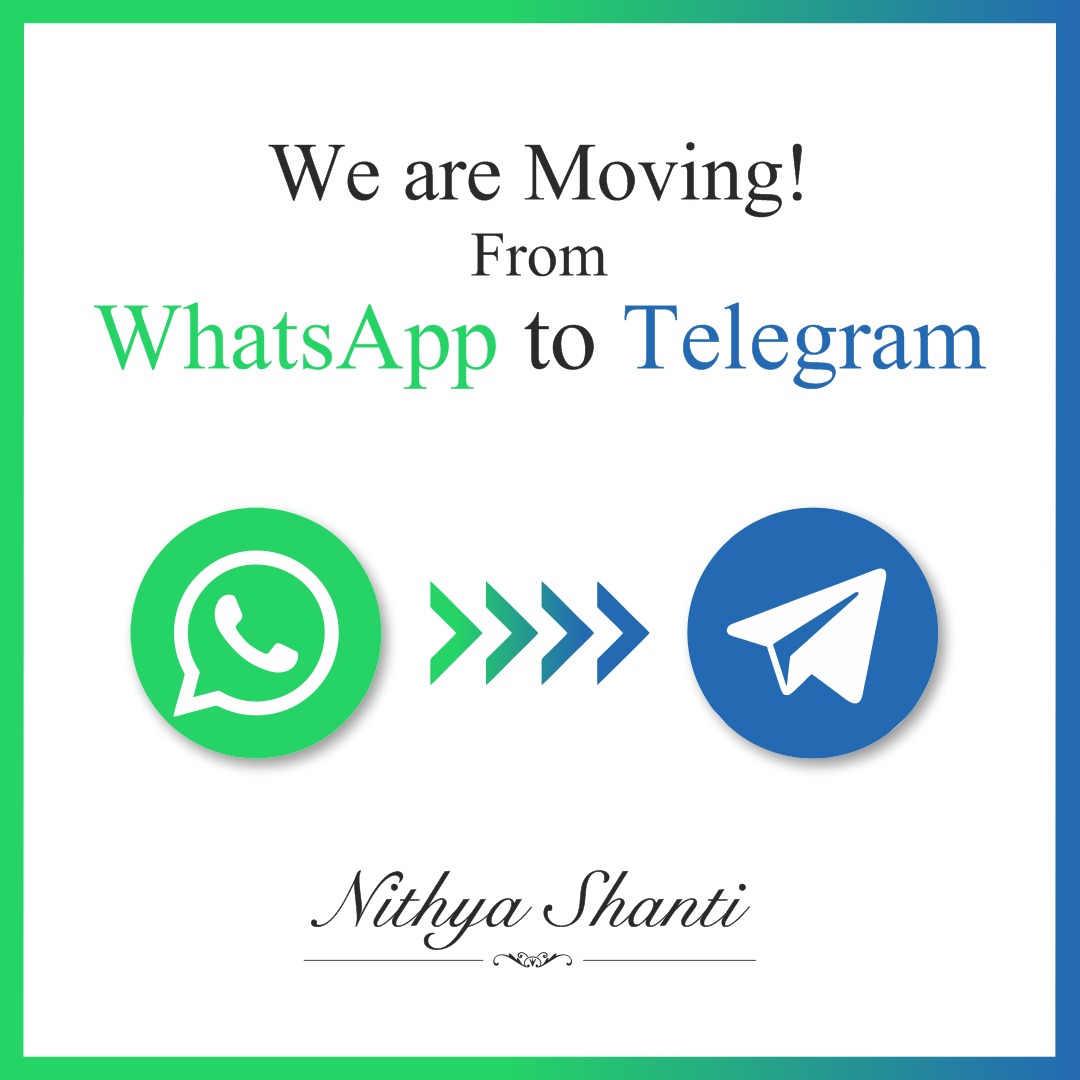 We're moving!
To accommodate this expanding community, to bring us all together in the same space, and to acknowledge growing privacy concerns with WhatsApp, I'm moving all my groups on Whatsapp to Telegram.
Join my group 'Hadayoli' on telegram for inspirational resources, latest videos and updates on all the courses I offer.
Download and install the Telegram Messenger app from your app or play store and then follow this link:
You can also subscribe to my monthly email newsletter here...
http://bit.ly/upcomingdelights
To know about and access all offerings by Nithya click on:
https://linktr.ee/nithyashanti
I care about privacy and will not share your email or mobile number further.
================================================================================